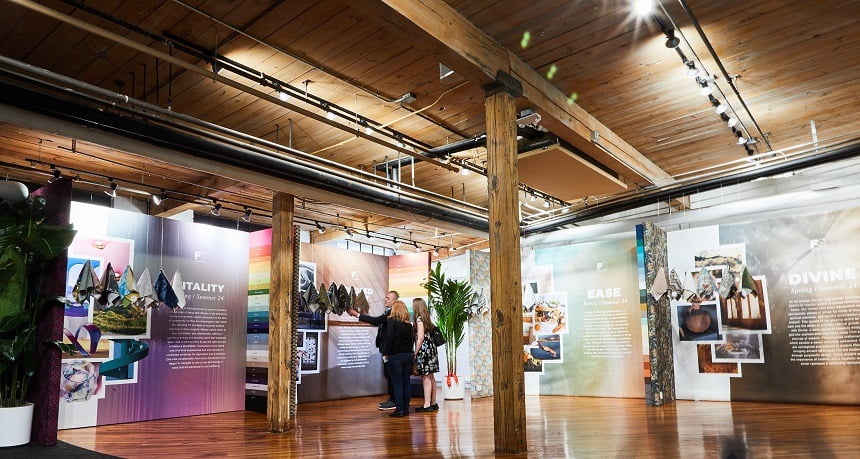 HIGH POINT— As the High Point Market concludes, the stage is set for the forthcoming Spring releases. The anticipation mounts as the Interwoven Textile Fair, a biannual event organized by the International Textile Association (ITA), is on the horizon.
Scheduled for Nov. 14-16, 2023, in High Point, the Interwoven Fall event is poised to exhibit the latest innovations from ITA's affiliates, spanning fabrics, leathers, and decorative elements. An impressive gathering of over 600 purchasing firms is anticipated, many of whom will be selecting materials for their 2024 upholstered furniture collections. Carrie Dillon, the lead at ITA, emphasizes that the amalgamation of style and furniture finds its genesis at Interwoven.
Dillon shares her enthusiasm, "Our exhibition plays a pivotal role in shaping home décor tendencies." She elaborates that almost a year or more before a trend goes mainstream, it debuts in the form of fresh textile and leather offerings at Interwoven.
Drawing from influences like contemporary fashion, global journeys, and trend predictors such as Fashion Snoops (FS), designers craft their seasonal portfolios. Dillon adds, "In collaboration with FS, we spotlight four emerging trends in each of our magazine issues. These trends are further highlighted in an exhibit during the event." Participating ITA members submit their innovative samples, which the FS squad organizes into an all-inclusive presentation, situated on the 5th floor of Market Square. This serves as a beneficial primer for attendees, providing them a snapshot of the season's innovations. The materials handpicked during the Interwoven Textile Fair subsequently find their way onto furniture displays at the subsequent High Point Market. Half a year later, these designs grace retail outlets.
Highlighting the synergy between ITA and FS, Dillon mentions their joint venture with the High Point Market Authority and the American Home Furnishings Hall of Fame. Together, they cherry-pick one standout trend from the Interwoven Textile Fair. This chosen theme is then manifested in a special exhibit at the Hall of Fame venue, elucidating how textile innovations are transposed onto upholstered items and additional décor elements. Besides this, attendees of Interwoven also have the privilege of partaking in enriching learning sessions during the event.